Welcome to our Stamp of the Month Blog Hop! We will be featuring September's SOTM: Treasures, a set of 13 stamps. If you have come here from
Laurie Levnik's Blog
, you are on the right path! If this is your first stop, you may want to go back to
Jena's Blog
and start from the beginning!
***
This month we have 69 Close To My Heart Consultants sharing their creations
using this month's SOTM and other great CTMH products on their blogs. This is simple to do - just click on the link at the end of the post on each blog to
move to the next one! Here we go!
This first card is simple simple simple!! Can I say it again SIMPLE!! I actually found the inspiration from a thank you card that my parents got. When I saw the thank you card I thought it looks so much like the September SOTM. What do you think??? I random stamped the cardstock with versamark ink pad and then covered the ink with white daisy embossing powder. To make the powder stick you use the craft heater to melt the powder onto the card. Like I said EASY and SIMPLE!
Which card did I do the SOTM on??
#1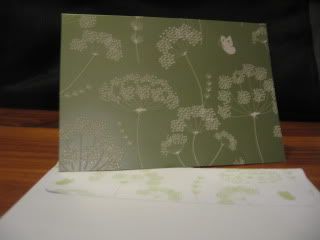 #2
If you guessed number two you are correct!! :)
Two cards together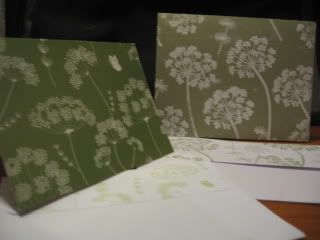 Supplies-All CTMH unless noted
September SOTM: Treasures
Size: 4 1/4 x 5 1/2
Garden Green cardstock
Garden Green ink pad
VersaMark Ink Pad
White Daisy Embossing Powder
Craft Heater
The next two cards I found my ideas from the new Card Confidence Program called Wishes! I love this book--just another book to help me get my creative juice going!!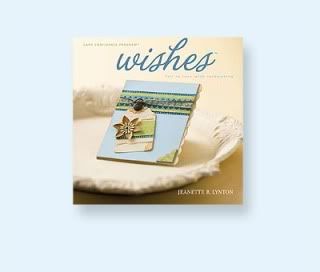 The second card is called Keep It Level. I used the small "pom pom" to create a sun by going around in circle. Then I took the stem to make the rays on the circle and then on the bamboo cardstock. Thank you to Katy D. who shared this creative idea of turning the "pom pom" into a sun! She really was thinking outside of the box to come up with this idea. The background and texture paper is a new paper from the paper pack called grace. I thought the flowers looked like different versions of the sun!!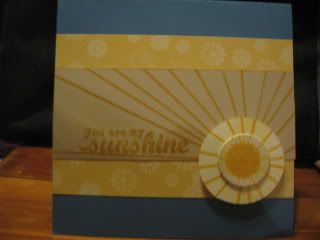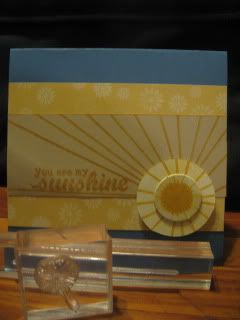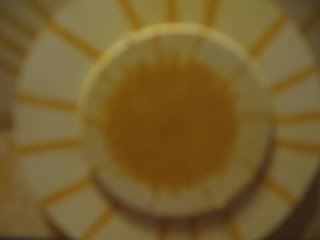 Supplies-All CTMH unless noted
September SOTM: Treasures
Wishes Size:6x6
B&T Duo from Grace (new!)
Twilight
Bamboo
Honey Ink
Booksmart (new!)
The last card is called circle collection...so I went a little crazy with circles! We have lots of new and fun circle embellishments like the basic craft buttons (chocolate, bamboo, cocoa, colonial white) and dimensional elements in color:organic. Even the two B&T duo from twitterpated has circles in it!!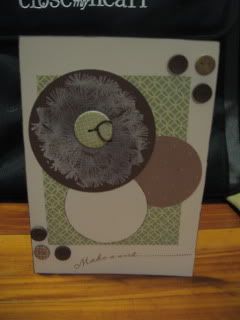 Supplies-All CTMH unless noted
September SOTM: Treasures
Wishes Size: 5x7
B&T Duo from Twitterpated (new!)
Colonial White cardstock
Chocolate cardstock
Chocolate ink
Chocolate buttons from basic craft button
Organic Dimensional Elements in Color
Embroidery Floss
CM circle cutter system
Now "Hop" on over to
Karen Norman's Blog
to see her work! Be sure to visit all the Consultants at their Blogs to get some great crafting ideas and other fun ideas!
Remember, the September SOTM: Treasures is only available until September 30th! Contact your Close to My Heart consultant today or check
my website
to see how you can get this stamp set at a discount or even free!